Jet Plumbing, Heating & Drain Services
Plumbing ~ Heating ~ Sewer Contractors
Professional Plumbing Services in Reno
Don't Fret, Don't Sweat… Just Dial "Call Jet"
"All your plumbers have been courteous, kind, honest and on time. I'm a person who thrives on excellent customer service. I couldn't ask for better service!" – Joan S., Sparks
With over 40 years of experience you can trust JET Plumbing with your home repairs. Not only do we offer plumbing services we also provide heating & air, water heater repair and underground services. Trust JET Plumbing with your next home project.
Plumbing Services
Our Plumbing Department handles all problems associated with water and pressurized fuel gas inside and outside your building. If it transfers, stores or dispenses, we can install it or repair it. Call 775.331.3933 now to have your questions answered. Please visit our complete plumbing information page for more information.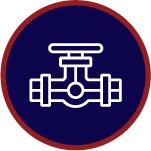 Underground Services
Our experts in the Underground Services Department have the training and equipment to do every job in a professional and safe manner. We can repair or replace any problem associated with underground water lines, sewer lines, stormdrains, culverts or under-slab piping. Contact our office today at 775.331.3933 for more information.
Drain Services
Our Drain Department handles all areas where "used" water is found. Whether it's waste from your home or rain water from the parking lot, once it's served it's purpose we make sure that it drains properly to the city sewer, storm drain or your septic tank or french drain. Click here for more about Jet Plumbing's drain cleaning services.
Heating and Air Conditioning Services
Our Heating and Air Conditioning Department (HVAC) handles anything associated with keeping the temperature in your home or business comfortable. This includes furnaces, boiler systems, air conditioners, ducting, thermostats, radiant heating systems and evaporative coolers. For more information on Heating Systems click here for Air Conditioning Systems click here.
For over 50 years, approximately 94% of our over 13,000 service calls every year are performed for returning customers or referrals from them.

  
Why Choose Jet?
Experience + Quality + Reputation = Value
Experience
Jet Plumbing's service technicians are specially trained in the department they work. And with an average of 7 years at JET Plumbing, they know what is expected of them on every job and for every customer.
Quality
JET Plumbing guarantees all workmanship on newly installed material, equipment, faucets and fixtures for one full year. All of the material we supply is guaranteed by us for one full year. In most cases the manufacturers warranty, such as that offered by the Bradford White Water Heater Company, applies above and beyond that.
Reputation
70% of our 9,000+ service calls every year are performed for our returning customers. For 40 years the JET Plumbing name has been synonymous with "plumbing service" in Northern Nevada. From the first telephone call to the completed job, you will know why JET Plumbing continues to excel as the leader in the plumbing, HVAC and drain cleaning industry in Northern Nevada.
Value
In today's economy it's hard to determine just what the definition of the word value means from one person to the next. Jet Plumbing's owner and employees are aware that getting the most for your dollar is important to all our customers, but for some just having a repair done right now is more important than the cost of the repair. We would like to express that whether it's time, price, or quality you are most concerned about, we are truly focused on all three aspects equally. The true test of "taking care of the customer" is proven when they use our services again and again, and that is what we value the most.
With that in mind, Jet Plumbing, Heating & Drains Services reminds you that when you're looking for a service company; compare apples, ask a friend who they use, and check credentials. No one has ever regretted doing their homework.