Color TV Pipe Surveying and Line Locating
Sewer Line Repairing or Replacing
Repairing or replacing a water service or sewer line is dirty work that requires more then a shovel and some new pipe. Homeowners and business owners have to be aware of the current local codes, frost depths, grade limits, compaction requirements, backfill material specifications to prevent settling, and concrete and asphalt removal and replacement.
Even if you know how to do this type of work and have all the proper information, are you ready for some backbreaking work? WE ARE! Jet Plumbing has over 30 years of experience & the proper equipment and licenses to provide you with a quality turn-key job. Feel free to call us with any questions you may have regarding your specific needs.
Trenchless Sewer Replacement
JET Plumbing utilizes "Pipe burst Technology" to replace sanitary sewer lines. Pipe bursting is the only way to replace an existing pipe with full diameter pipe using minimal excavation. Not only does Pipe bursting save time and money, it preserves the area of the line rehabilitation and is environmentally safe. In this picture we are replacing approximately 90′ of 8″ sewer line at the Veterans Hospital in Reno.
This sewer line ran between 2 manholes on the east side of the hospital and under the newly built structure shown here to the right. Jet was able to replace the existing line with a new High Density Polyethylene line without having to alter, remove or damage this structure.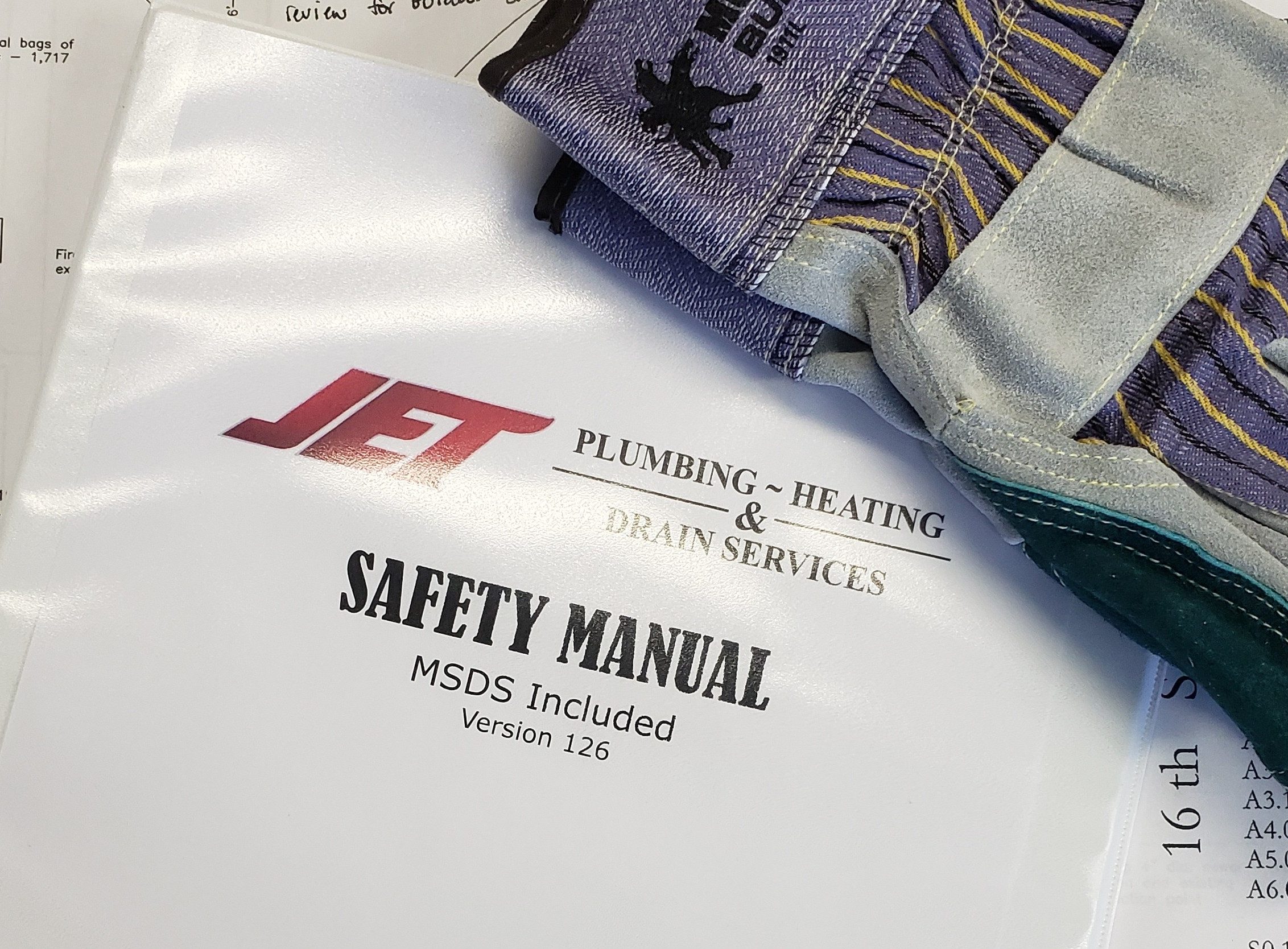 Safety Training
Whether replacing a line at your home or business, Jet Plumbing employees are trained in and follow all OSHA safety regulations. From Confined Space Entry to Competent Person Training we make sure each jobsite is kept safe for the workers and public alike.
Pipebursting (Trenchless Sewer Replacement) Video
Pipe bursting is just one of the ways Jet Plumbing, Heating & Drain Services is able to replace your entire sewer line or a section of it. This method is used to install a new high density polyethylene line under driveways, landscaped areas and complete structures.
Here is a video of a 4″ sewer lateral replacement we performed in 2006 using the pipeburst method.
Water Line Slitter
Jet Plumbing, Heating & Drain Services can replace old copper, galvanized and poly water line with new high-density polyethylene water line using a slitter/puller. Much like pipe bursting a sewer line there is minimal excavation needed which saves time and money. Typically an entry and exit pit are dug at specific locations near the home and water meter.
Camera Inspections & Locating
Underground Line Locating
When repairing or replacing your sewer line it is important to know where the line is and how deep it is at any point. This information is imperative to properly diagnose the problem area of the line and determine what steps will be needed to repair it. JET Plumbing has electronic line locating equipment that will do just that. When used together with our sewer camera we are able to give you the best possible solution and price. Don't be caught digging up your entire yard to repair a small section. Call and ask to speak to one of Jet Plumbing's experienced plumbers for more information.
Example of how the entry and exit pit are dug.
• A cable is fed through the leaking line and attached to the slitter head and new pipe.
• The line is stretched down the driveway and ready to be pulled directly under where it is now.
• The line is carefully pulled to this receiving pit taking care not to damage any electrical or irrigation lines.
• The cable attached to the new line is pulled using a Backhoe until the head reaches the receiving pit.